Unlike money-fueled job markets, Timebank allows users to earn time using various skills and knowledge. No matter how weird or diverse your offers are, there's a possibility that someone somewhere might need them. You never know until you advertise. Here are a few tips to help you share your skill set with the rest of the Timebank world. 
1. Completely fill out your profile
This is an obvious one, but few people do it. People like to see a face and personality behind the username. In the top right corner of the Timebank page, hover your mouse over your name and edit your profile. Tell the world a bit about yourself and what skills you can offer. Even if you're not an expert in them or are unsure how they could be useful to someone, they might prove interesting or helpful to someone.
2. More offers, shorter descriptions
Are you a scuba-diver who speaks 5 languages, knows a lot about carnivorous plant care and loves to repair monocles?
Fantastic! Instead of creating one advertisement offering all your skills, create one for each of them. That way, people can find them much easier.
3. Set up a request ad alert
Search > Advertisement alerts > insert new advertisement alert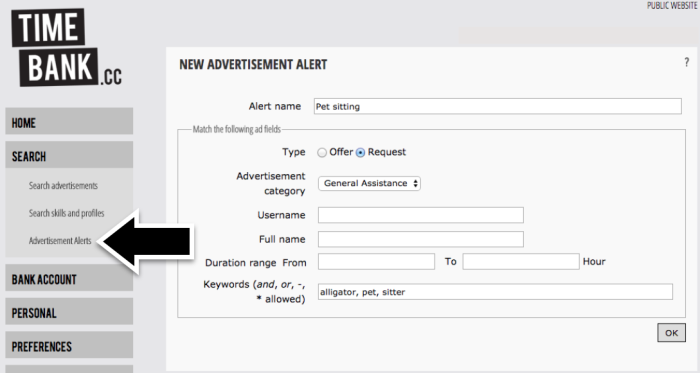 Select 'request' and enter a few keywords. Each time a request is posted that matches your keywords, you will automatically receive an email notification about it. If you select "request" and don't enter keywords, you will be notified of all requests as soon as they are posted.
4. Follow interesting users
If you notice that one particular user posts interesting requests or offers, you can follow them by using the favorite feature:

Home > Quick Access > Favourites (second icon from the right )

It might turn out that one day they will need your expertise on one of their projects.
So go out there, post your offers and let your skills and talents shine!