PIZZA PERFECT!
1 July 2017 @ 19:00

-

22:00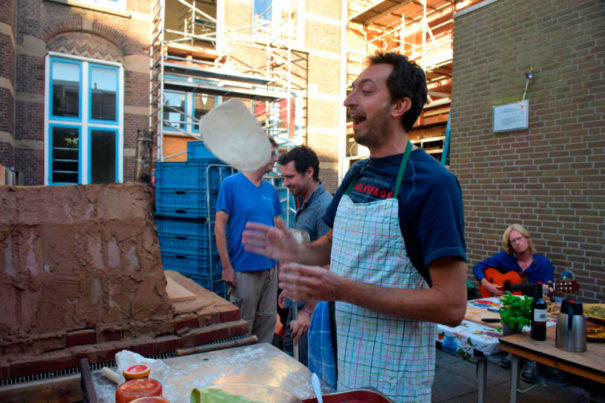 Saturday 1st July, 19:00- 22:00 hours
Food for Time by Volkskeuken and Pizza.cc
@ The gym of Lekkernassuh
Witte de Withstraat 121 The Hague
Price: 1,00 H + € 4 for the ingredients
RSVP: sara.pape@timebank.cc
---
Clear your diaries for the next Volkskeuken & Pizza.cc event on Saturday 1st July, because it's pizza and party time with our favourite 'fun-ghi' to be with, Beppe!
Whether you're a mushroom or margherita fan, there's something for everyone at this sizzling summer event. Join the Timebank community at our outside oven for a slice or two of your favourite vegetarian pizza and some fun fireside conversation. Be there or be…a square slice of quattro formaggio.
VOLKSKEUKEN is a food initiative based on community exchange. The restaurant is lead by passionate chef, Liselotte, and her dedicated team of Timebankers. Together they form one of the most impressive restaurant initiatives in The Hague. The kitchen operates on hard work and self-reliance, changing the way restaurants are normally viewed. VOLKSKEUKEN encourages people to be more hands on in the development of communties, by supporting local projects and hosting affordable events designed for everyone.
At VOLKSKEUKEN the food is tasty, fresh, and prepared with a lot of love.
How it works
Dinner will be served for 1,00 Timebank Hour + 4 euro (costs for ingredients and electrical and gas costs to keep the space running).
Don't you have any Timebank hours yet? You can earn them by logging in at Timebank.cc and posting an offer! By posting your skills on Timebank.cc you will receive requests from fellow Timebankers who are in need of your help. The time spent on the exchange will be paid in Timebank.cc Hours.
Want to invite friends?? This is always possible, but be aware that all meals have to be paid in Hours, there's no conversion possible between euro's and Hours.
Dinner will be served with water and tea, but feel free to bring additional beverages
---
New to Timebank.cc?
Would you like to earn your first Timebank Hours during this event? You can earn Hours by helping us serving food on the event day.
Volkskeuken chef Liselotte is still looking for extra hands! Click here for more information.
***Timebank is a tool, accessible to everyone, to help, work and cooperate with each other. It enables exchanges with transactions based on time rather than conventional money, where one Timebank Hour equals exactly one hour of work.***
---
We are looking forward to seeing old friends and welcoming new ones!