Pumpkin Watermelon Ballroom Dancing!
1 October 2016 @ 19:00

-

22:00

1H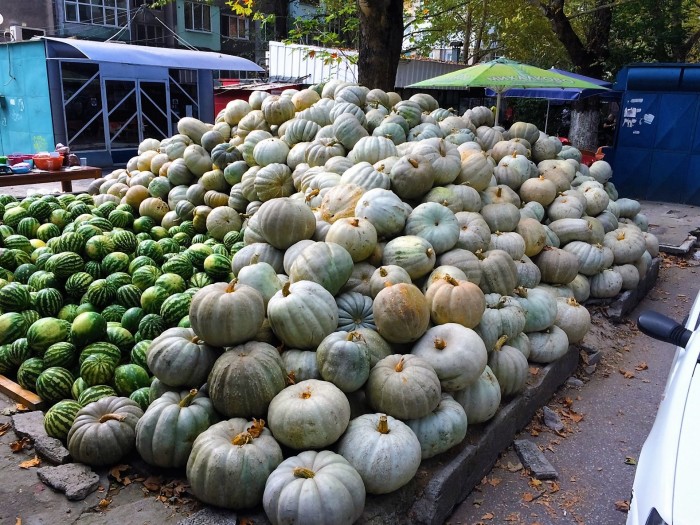 The time has come for the new Volkskeuken event to take place and this time, we dedicate our hearts for pumpkins and watermelons! As the Timebankers believe, there is no better time to celebrate times of metrological confusion than the 1st of October, combining both our favorites from the summer and autumn.
The idea was brought up by one of our Timebanker Kost Tonev and the harvest in Bulgaria (see picture). Of course, you wonder what will this taste like!? We asked the same and we shall experience it soon enough, 1st of October. Maybe this is your only chance to attend Pumpkin Watermelon Ballroom Dancing, so don't miss it!
COST: 1,00 H + € 3 (for ingredients)
Dinner is served with water and tea but you are welcome to bring additional beverages.
No Hours? You can make a donation of €3 or more + the base cost of € 3 for ingredients. Keep in mind that those who pay with Hours are paying with a full hour of time that they worked. This means very different amounts in Euros for different people, which is why we have a sliding scale payment option.
All profits (in Euros) go to harvesting shares for Lekkernassûh, which is a local cooperative that offers weekly non-profit markets run collectively by people from their community. It is another step to an independent and sustainable way of feeding your body.
VOLKSKEUKEN is a restaurant around a communal table. Volkskeuken believes that economical and social values can merge around the basic need of food.
Make sure to reserve a spot and let us know you're coming :)
Send an email to – sara.pape@timebank.cc